A Beach Breeze Inn
169 Main Street, Route 28
West Harwich, MA 02671
800-942-9845 ~ 508-432-2101
www.beachbreezeinn.net
Email: stay@beachbreezeinn.net
All rooms non-smoking

Reopening April 15, 2011

2011 Rates -
4/15 - 6/23 $75 - $109

6/24 - 9/4 $149 - $164*

9/5 - 10/9 $85 - $109*

10/10 - 11/27 $75 - $99



*Holiday & special event surcharges may apply
Check internet for "early bird" and "spectacular spring specials"
Cleanliness - 10
Friendliness - 10
Cape Cod Charm - 9
Value - 9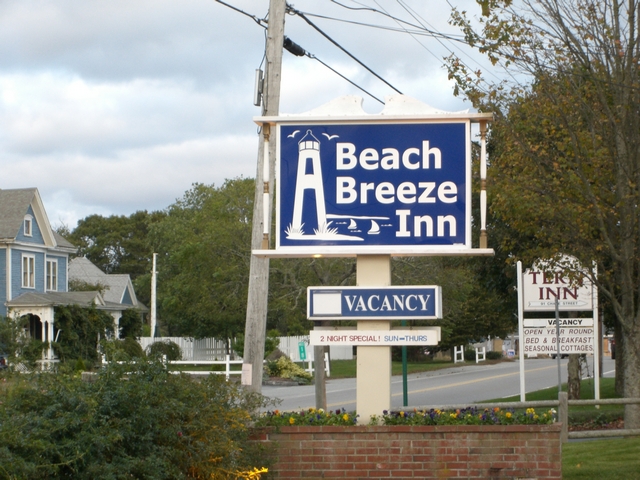 On our trip to the Cape in the fall we were looking for accommodations that were family owned and operated, and that were also 25 units or less. We settled on a small 18-unit motel in Harwich Port named A Beach Breeze Inn. It is owned and operated by Steve and Pam Lemieux whose own private residence is attached to the office. If you enjoy being able to pull right up to your room, a quiet setting, immaculate accommodations and friendly, but unobtrusive attention, than this is your kind of place.
This small motel combines the best of an inn and hotel and is loaded with Cape Cod charm. Our room was very spacious and attractively decorated in a sea foam green color scheme complete with wainscoting, lovely wallpaper and an octagonal "window" with a scene of the beach. Our room included 2 comfortable queen beds with linens that coordinated with the room's decor and a full bath with a shower and tub. The room was large enough for a dining table with 2 chairs by the sunny window, a wingback chair, an electric fireplace, a large open closet/storage area, a half-size refrigerator and a microwave. Additional amenities include cable TV, air conditioning, heat and a wall fan. We especially enjoyed the windows on both sides of the room that allowed for cross-ventilation on the beautiful fall days during our stay. The full bath was small and ordinary, but immaculate and suitable for our stay. My only reservation was with the towels that were provided - they seemed a bit rough, though when I asked my husband his opinion he said he hadn't noticed. There is an outdoor pool that is open seasonally, and a picnic area with a gas grill available for use by guests. WIFI was advertised on their website as motel-wide at the time of our reservation, but was not totally reliable even though our room was close to the WIFI source. The owners were very apologetic and indicated that the weather is a factor in reception, which is out of their control. The website now indicates that WIFI is available in the office lobby for checking email. There is a computer available in the lobby for guests to use - a nice touch for checking emails when away. The inn also serves complimentary coffee and tea in the lobby every day, and a complimentary continental breakfast of homemade muffins or breads daily in the summer, and on weekends in the off-season.
A Beach Breeze Inn is located right on Route 28, but we could not hear the traffic from it in our room since the motel is set back and on a bit of a knoll. A road that ran behind the inn had some traffic that could be heard when the back windows were open, but we did not find it offensive. The motel was about 100 yards from the Herring River Bridge, which provided some nice opportunities to enjoy views of the tidal marsh and scenery there. Directly across the street is the Weatherdeck restaurant where we enjoyed some wonderful seafood one evening. The hotel is also located about 1 mile from a huge, well-equipped laundromat which came in handy since we were away from home for almost 2 weeks. There was easy access to main roads on the Cape as we were about 3/4 mile from Route 39 and 2 miles from Route 134, both of which lead to the mid-cape Highway, Route 6. Pleasant Road beach is about a 10 minute walk from the motel, and there are several other great beaches within about 2 miles. There is mini-golf, batting cages, trampolines, a 9-hole regulation public golf course, plenty of restaurants, ferry service to Nantucket and much, much more very close by. And, of course, the entire Cape is easily reachable from this quiet Cape Cod charmer.
We wanted a quiet place to relax and use as a base to explore the Cape, and A Beach Breeze Inn was the perfect choice. When it came time to leave we wished we had more time to stay. But alas, it was time to return home with our cherished memories of the Cape tucked in our minds. Upon our return, we would be delighted to stay at A Beach Breeze Inn again.